http://www.telegraph.co.uk/news/2017/07/19/bbc-pay-list-hidden-names-corporation-does-not-want-see/
the published table of the BBC star salaries contains 96 names, but the real number is likely to be higher as a technicality allows the true figures to be masked. The government required the disclosure of "people paid more than £150,000 of licence fee revenue" in the last financial year. But that means direct payment only. Anyone who is paid via an independent production company is exempt from the list, as is anyone paid by the corporation's commercial arm, BBC Worldwide. Some stars also earn far more than the published figures suggest. wrote:
So this is where your TV-license fee goes.... Its a shame the graph, does have the wages bill on it  

http://www.tvlicensing.co.uk/check-if-you-need-one/topics/what-does-your-licence-fee-pay-for-top13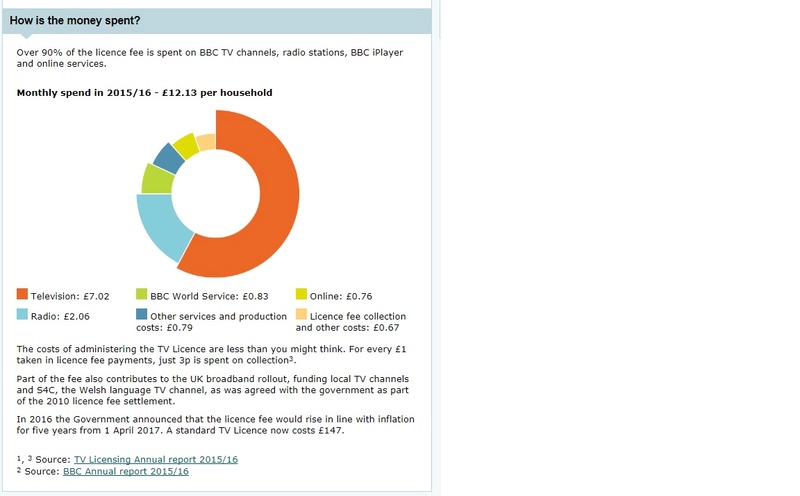 Posts

: 427


Points

: 607


Reputation

: 68


Join date

: 2017-04-19


Location

: Looking out my back door



A bunch of wankers get paid far too much money and the story turns into the lady wankers don't get as much money as the men. Boo hoo. The easiest way to sort this out is to stop paying the licence fee.



Posts

: 37


Points

: 53


Reputation

: 10


Join date

: 2017-06-23



its ridiculous is the amount of tv license below 100 or even lowered to 52.00 a year would be fair to pay

but i think its about time bbc tv license was ended and bbc start to use advertising to pay for it like all the rest of the other channels do nowadays

either that or bbc is forced to pay the other channels and share the cost instead of keeping the full amount for its rip off license
Admin wrote:its ridiculous is the amount of tv license below 100 or even lowered to 52.00 a year would be fair to pay  
Even then I wouldn't pay. The BBC must make more than enough money from the shows they sell overseas, plus from merchandise such as DVDs...
I wonder how much of a percentage of their shows each week are repeats? They should have another channel for repeats only, leaving the main channels to show new stuff. And most of their shows are cheaply made, for instance all of their antique, quiz or cookery shows..



Posts

: 51


Points

: 71


Reputation

: 18


Join date

: 2017-04-14


Age

: 99


Location

: Earth



id rather pay a mast fee of 52.00 a year at least everyone could/can receive the freeview channels that mostly everyone do gets without a mast price then there is no freeview to watch


You'd think that the BBC would scramble the tv signal and get people to pay that way

. Instead of 1946 licencing model 'honesty box'. Even on the BBC website they have an article about such matters of honesty boxes, and they don't work:
"If people think they can get away with it they will usually behave selfishly and not pay" - Dr Melissa Bateson
Behavioural biologist
I am just glad I stop watching the "fools lantern" years ago.

http://news.bbc.co.uk/1/hi/magazine/7041447.stm
https://en.wikipedia.org/wiki/Television_licensing_in_the_United_Kingdom#History



Posts

: 427


Points

: 607


Reputation

: 68


Join date

: 2017-04-19


Location

: Looking out my back door



---
Permissions in this forum:
You
cannot
reply to topics in this forum